The 2022 American Control Conference will have a virtual pre-conference on June 1 and 2 from 9:30am – 1pm US Eastern Time. More than 100 papers will be presented at the virtual conference. A technical program is available here:
https://css.paperplaza.net/conferences/conferences/vACC22/program/
Conference registrants can access the virtual conference through Paperplaza.
WHAT IS THE CORRECT TIME ZONE FOR THE CONFERENCE PROGRAM?
The Virtual ACC will be held online on June 1 and June 2 during the hours 9:30AM – 1:00PM EDT (Eastern Daylight Time, GMT-4). The clock below indicates the current time in both EDT and your local time (alternatively, you can consult https://www.worldtimebuddy.com/).Time Converter
Powered by world time buddy 24 am/pm
HOW DO THE TECHNICAL SESSIONS RUN?
Technical sessions are held in a Zoom meeting room.
In each session, pre-recorded videos will be played.
During the playing, the audience can ask questions through the Zoom chat window to the presenter, and the presenter may answer immediately by text or wait until the video ends and answer the question verbally.
WHAT ARE THE INSTRUCTIONS FOR A PRESENTER?
Presenters must be present at their technical session to answer live questions.
It is highly recommended for the presenter to enter their session room 5-10 minutes before the session starts.
Please change your display name in the Zoom meeting to "n-th paper – your name", where n is the number of your paper in the session. This naming will help the chair/co-chair and the audience to identify the speaker.
It may be wise to learn ahead how to change the display name in Zoom.
WHAT ARE THE INSTRUCTIONS FOR A SESSION CHAIR?
Zoom sessions will be hosted by student volunteers.
Before the session starts, determine who will be the moderator for each of the papers in the session.
Share screen and play the video for each paper through the Virtual Conference Platform (VCP). Please make sure you also enable "share sound" when sharing your screen.
During the presentation of papers, facilitate the answering of questions in chat by the presenter.
After each video finishes, facilitate the live conversation. Also consider asking questions to spark discussion if there are no immediate questions from the audience.
HOW TO ACCESS THE LIVE PROGRAM?
If you registered for the conference, you will be able to enter the Virtual Conference Platform (VCP) at https://events.paperhost.net/conferences/conferences/VACC22/proceedings/vc using your IEEE CSS PaperPlaza PIN and password. Through the entry page, you will get access to the program: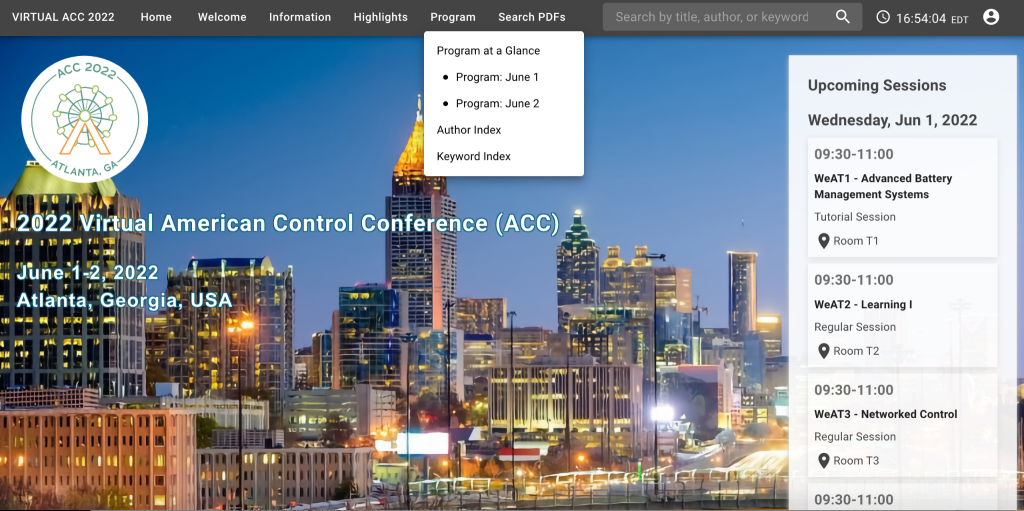 You will see the list of all technical sessions on June 1 and June 2, as shown in the screenshot below referring to Wednesday June 1, 2022: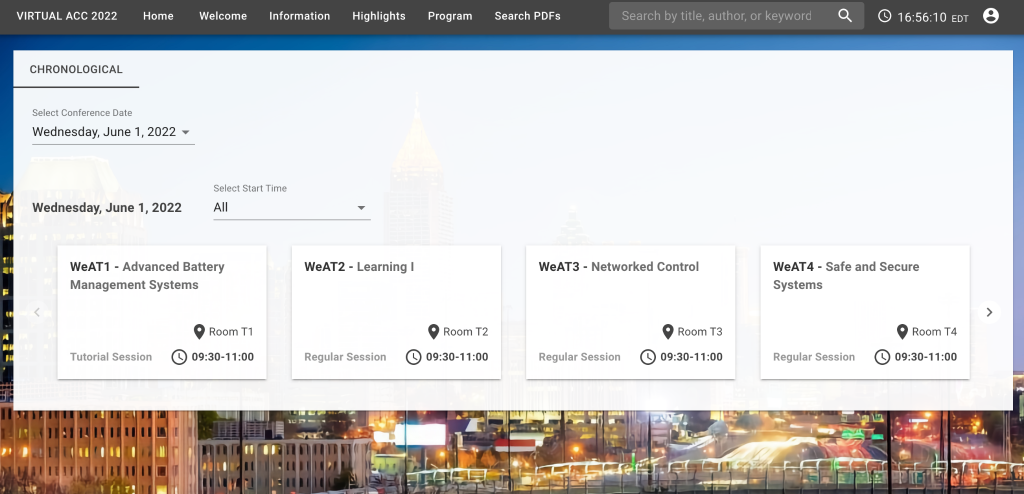 If you select the session that you are interested in, you will get the link to the Zoom room hosting that session (highlighted in red in the screenshot below).
Use the code ACC2022 if prompted for a meeting passcode.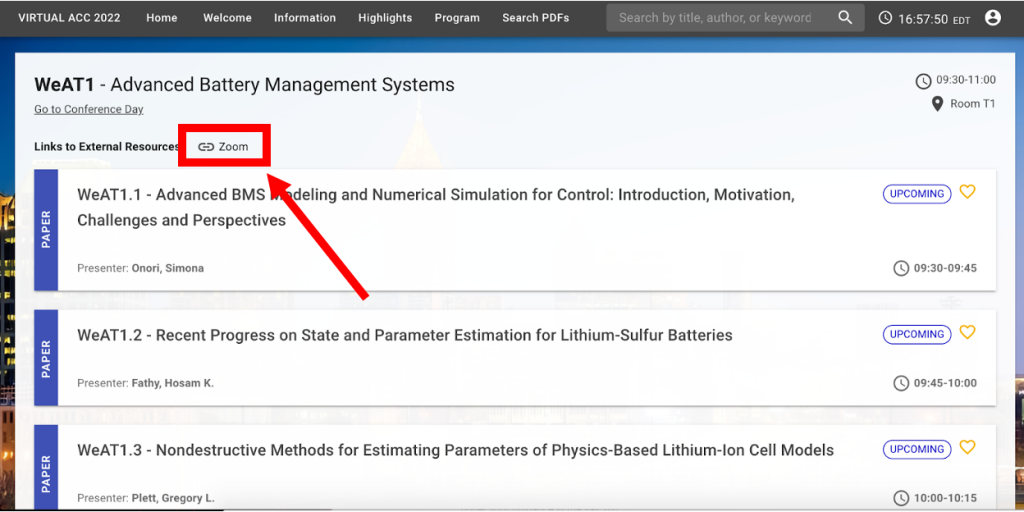 Manuscript and video are available for each paper of the session except for the tutorial session: